Pressure Washing Your Parking Lot Before Striping: Is it Necessary?
Maintaining a clean and professional parking lot is essential for any business. Not only does it create a great first impression for customers and visitors, but it also ensures the safety of pedestrians and vehicles. However, over time, parking lots can accumulate dirt, grime, and other debris that can be harmful and even hazardous. That's where pressure washing comes in. But is pressure washing necessary before striping a parking lot? In this article, we'll explore the benefits of pressure washing and why it should be standard practice before striping.
Benefits of Pressure Washing
Pressure washing is the process of using high-pressure water to remove dirt, grime, and other debris from a surface. This method is not only effective, but it's also environmentally friendly, as it doesn't require the use of harsh chemicals. Pressure washing can provide numerous benefits, including:
Improved Appearance: Over time, parking lots can accumulate dirt, oil, and other debris, making them look unsightly. Pressure washing can restore the surface's original appearance, making it look clean and new.
Increased Safety: Accumulated debris, such as oil and grease, can make a parking lot slippery, creating a safety hazard for pedestrians and vehicles. Pressure washing can remove these hazards, reducing the risk of accidents.
Longer Lasting Striping: Striping a dirty or greasy surface can cause the paint to adhere poorly or even fail, leading to premature fading and wear. Pressure washing before striping can help ensure the paint adheres properly and lasts longer.
Cost Savings: Maintaining a clean parking lot can help extend its lifespan, reducing the need for costly repairs or replacements.
When Should You Pressure Wash?
In general, it's a good idea to pressure wash your parking lot at least once a year. However, if you notice heavy dirt or grime buildup, you may need to pressure wash more frequently. Pressure washing should also be performed before any maintenance work, such as sealcoating or striping.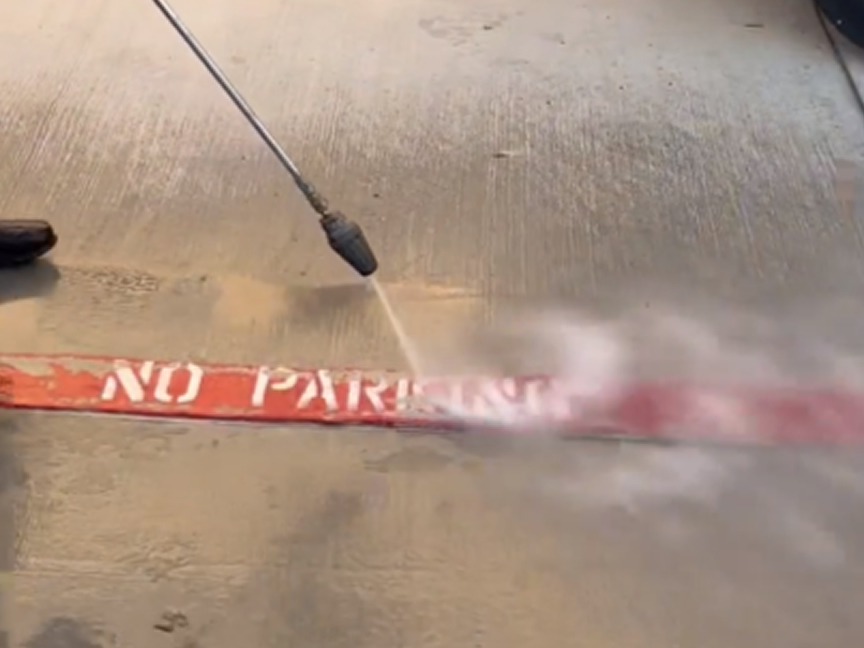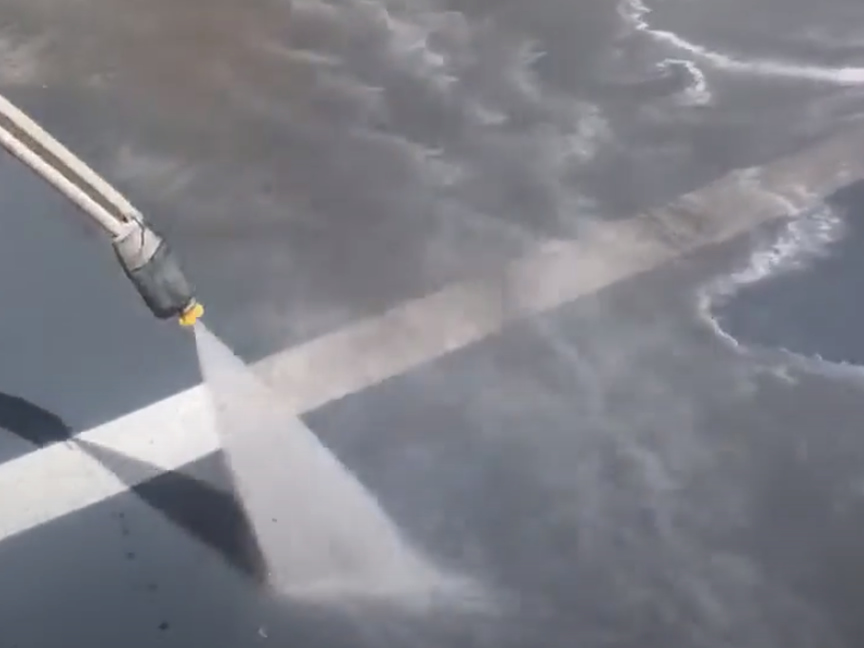 Why Pressure Wash Before Striping?
Striping a parking lot involves applying paint to the surface, and creating designated areas for parking, pedestrian traffic, and other markings. However, if the surface is not clean, the paint may not adhere properly, leading to premature fading and wear. Pressure washing before striping can help ensure a clean, dry surface for the paint to adhere to, resulting in longer-lasting striping.
Other Services We Offer
In addition to pressure washing and striping, our company offers a variety of other services to help maintain a safe and professional parking lot. Some of these services include:
Handicap Striping: Handicap striping is required by law to provide accessible parking spaces for individuals with disabilities. Our team can ensure your parking lot is compliant with ADA regulations.
Fire Lane Striping: Fire lanes are designated areas for emergency vehicles to access in case of a fire or other emergency. Our team can help ensure your fire lanes are marked and in compliance with local fire codes.
Directional Arrows: Directional arrows help guide vehicles through your parking lot, reducing confusion and preventing accidents.
Wheel Stops: Wheel stops are barriers that prevent vehicles from overhanging into pedestrian walkways or other designated areas. Our team can install and maintain wheel stops to ensure the safety of your patrons.
Metal Signage: Metal signage is a durable and professional way to display parking lot rules, directions, and other important information. Our team can create custom metal signage to meet your specific needs.
Crosswalks: Crosswalks help pedestrians safely navigate your parking lot. Our team can install and maintain crosswalks to ensure the safety of your patrons.
Loading Zones: Loading zones provide designated areas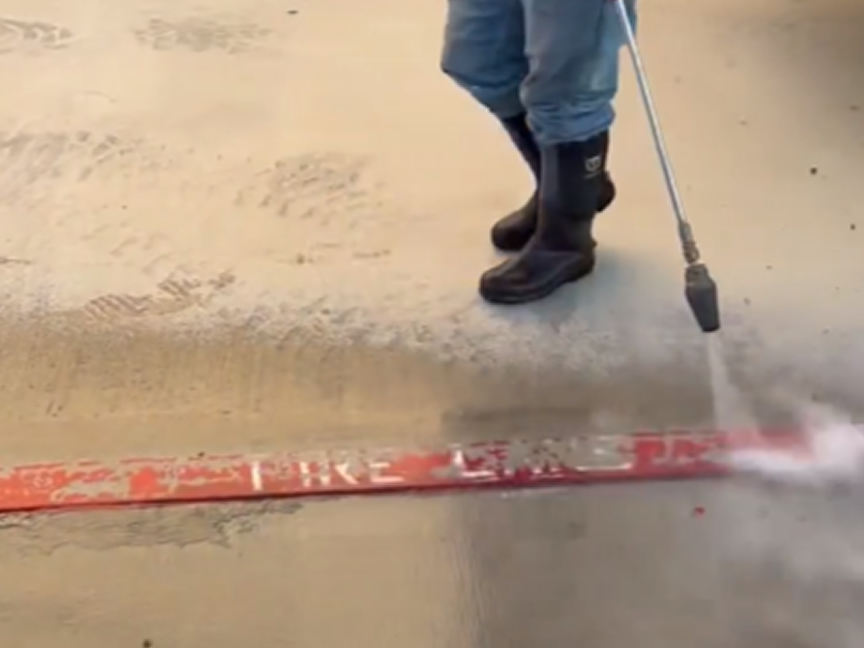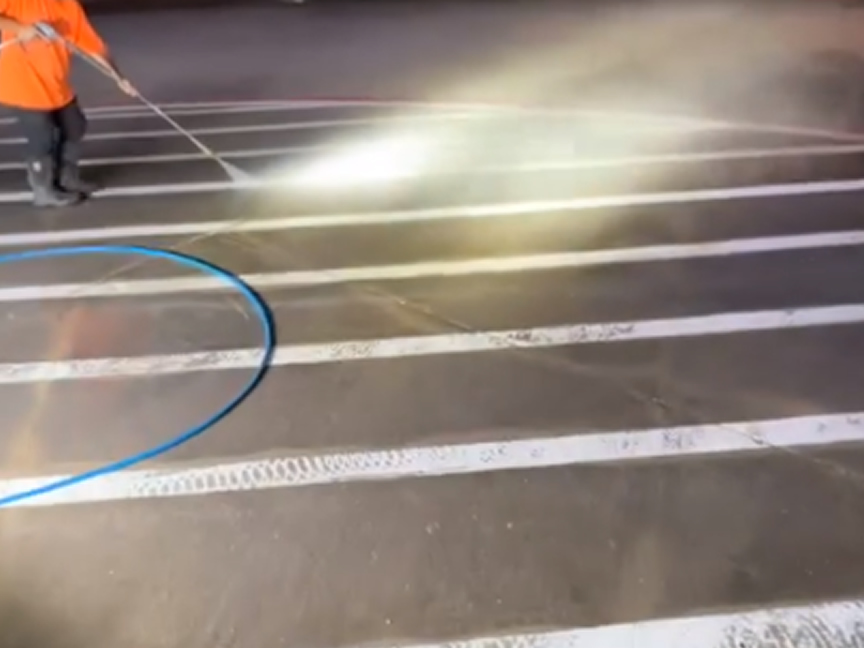 Why You Should Hire Us for Your Parking Lot Striping Needs
When it comes to parking lot striping, it's important to choose a company that you can trust to do the job right. At our company, we take pride in our work and use state-of-the-art striping equipment and only the highest quality striping paint. Our team is dedicated to providing exceptional service and professionalism for every project. Here are a few reasons why you should hire us for your parking lot striping needs:
Professional Results: We understand the importance of a professional-looking parking lot. Our team is skilled in striping straight lines and providing a clean, polished look for your parking lot.
High-Quality Materials: We only use the highest quality striping paint and state-of-the-art equipment to ensure a long-lasting and durable finish.
Attention to Detail: We pay attention to the small details that can make a big difference in the overall appearance of your parking lot. From crisp edges to clear markings, we strive for perfection in every project.
Experience and Expertise: With years of experience in the parking lot striping industry, our team has the expertise to handle any project, big or small.
Competitive Pricing: We offer competitive pricing for our parking lot striping services, ensuring you get the best value for your investment.
Get Your Free Quote Today
If you need parking lot striping or pressure washing services, we encourage you to reach out to us for a free quote. Our team is dedicated to providing exceptional service and professionalism for every project, and we're confident that you'll be satisfied with the results. Contact us today to learn more about our services and to schedule your free quote.